Rolling Acres Mall was a retail mall built in 1975 in Akron, Ohio, in the area known as Rolling Acres. During its lifespan it expanded several times and at its peak of business it was home to more than 140 stores with five anchors.
Many food corners and courts and a movie theater were part of the mall as well. It occupied a total area of approximately 1,300,000 square feet over two floors plus parking space for 7,500 automobiles.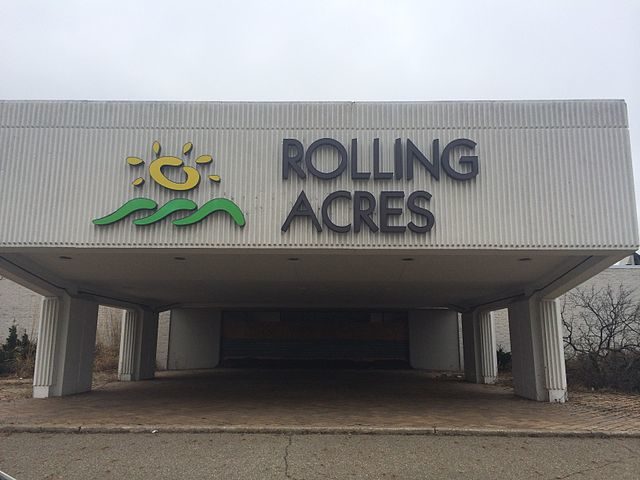 Entrance to the abandoned Rolling Acres Mall in Akron, OH, on Saturday, March 29th, 2014 - Author: UA757 - CC BY-SA 3.0
Rolling Acres Mall was developed and designed by Forest City Enterprises and set to open on 6th of August in 1975. On the opening day it had one anchor store (Sears) and 21 other retail stores, but just by the end of the year, the store count rose to 50. Next year another anchor store (J.C. Penney) opened for business and popularity of the mall went up even more. In 1977 a new wing was added, named the Court of Aquarius, which included a large aquarium and a third anchor store (Montgomery Ward).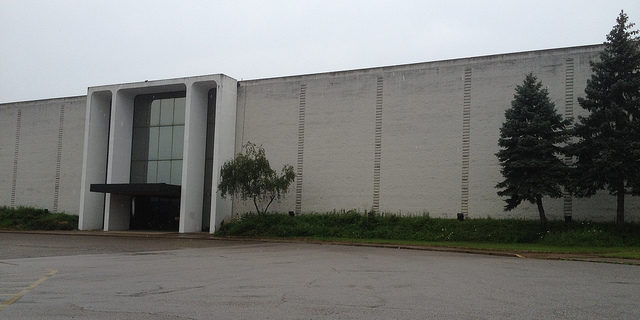 O' Neil's/Kaufmann's/Macy's at Rolling Acres Mall - Author: Mike Kalasnik - CC by 2.0
As in the year before, during 1978 another expansion took place. A new two-story wing called Promenade with a food court named "Prom-N-Eat" (whose name was later changed to "Picnic Place") joined the Rolling Acres family. And as it was forth year since the mall was opened, a forth anchor opened its store. It was the local chain of O'Neil's restaurants.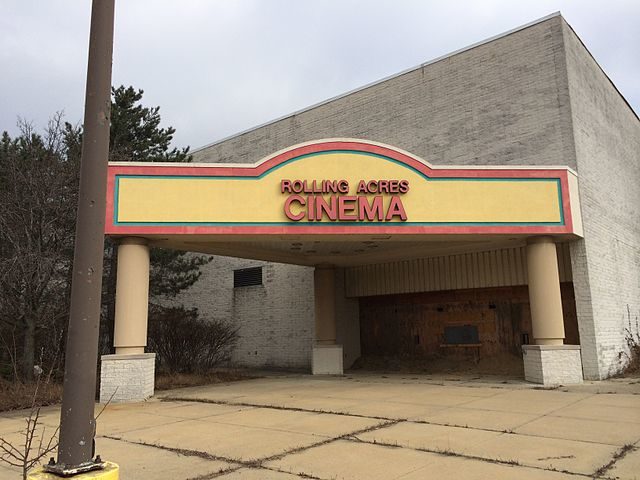 Rolling Acres Cinema building as it appeared in January 2014 - Author: UA757 - CC BY-SA 3.0
During the 1980s the mall was renovated from top to bottom, changing its colors. The owners found the earth tones boring and outdated and decided to go for pastel colors. Also, two of the anchor stores changed, one of them closed and was replaced with another, while another merged with a bigger chain and just changed its name. All in all the mall kept the same amount of anchors and kept on rocking the mall life with great success.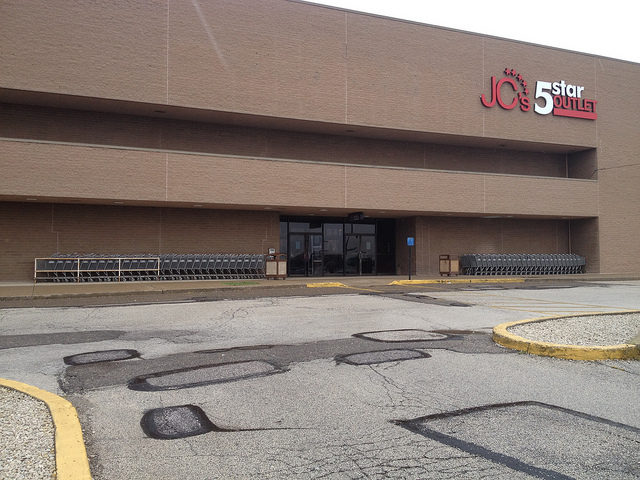 J.C. Penney Outlet/JC 5 Star Outlet at Rolling Acres Mall - Author: Mike Kalasnik - CC by 2.0
It was the 90s that required cost-cutting measures. From 1991 Rolling Acres Mall stopped using off-duty police officers and instead relied on cheaper private security guards. Consequently or not, that same year during a showing of the film "New Jack City", a crowd was running through the mall in panic. The reason behind this was a fight between two movie patrons just outside of the cinema. People believed they heard a gunshot and it all went south from that like a domino effect.
In 1994 the owners Forest City Enterprises gave the mall a boost, putting some money towards the development of the food court and adding several new restaurants to it.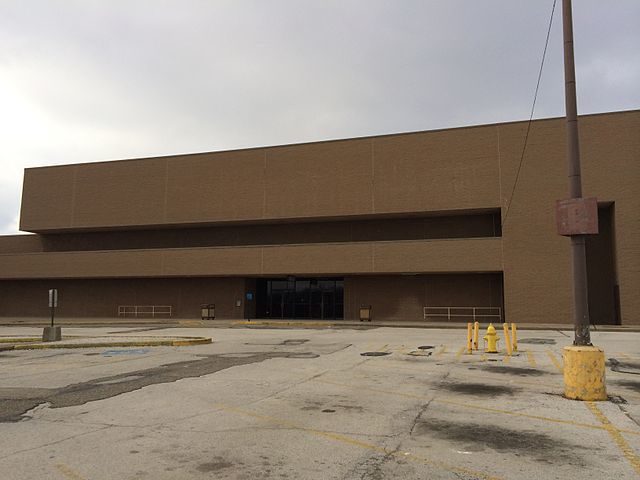 Former J.C. Penney Outlet building, January 2014 - Author: UA757 - CC BY-SA 3.0
The decade between 2006 and 2016 was a time of decline and eventually forfeit of Rolling Acres Mall. The anchor stores started leaving one by one. Some relocated to better, newer, more popular malls, while others went out of business and closed for good. The cinema theater was blinking screenings on and off until it closed for the third and final time in 2008 and the food court was baking less and less burgers month by month.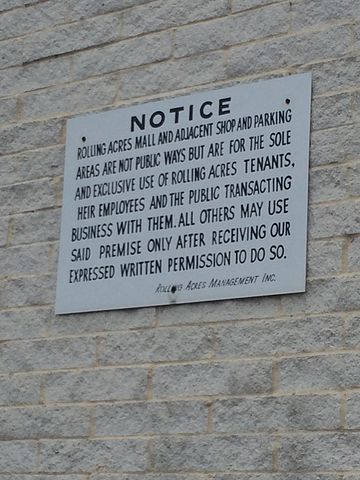 Remaining sign on the side of the former Dillard's building, warning that the property is only for use by Rolling Acres patrons - Author: UA757 - CC BY-SA 3.0
In October of 2008, the eight remaining tenants of the mall were notified by the owners that the mall would be closing as soon as possible. This was due to the huge unpaid electricity bill, and a bit later on October 31, 2008, the mall's power was finally disconnected.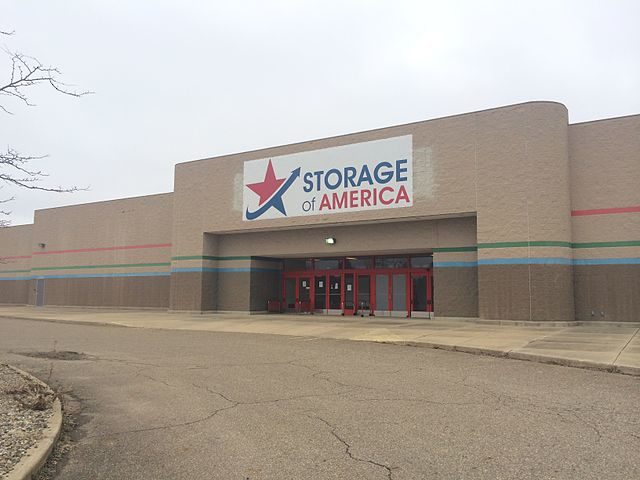 Storage of America (former Target) at Rolling Acres Mall in March 2014 - Author: UA757 - CC BY-SA 3.0
However, the mall kept on functioning in 2011 as a Storage of America facility and was used by the former Sears hosts the Pinnacle Paper Recycling Company, and the Dillard's hosts Old Main Storage, a private storage company. It was shut down for good on December 31, 2013. In 2016 several attempts to sell the mall were made. But all of them failed and the city of Akron seized the mall and took responsibility for its future.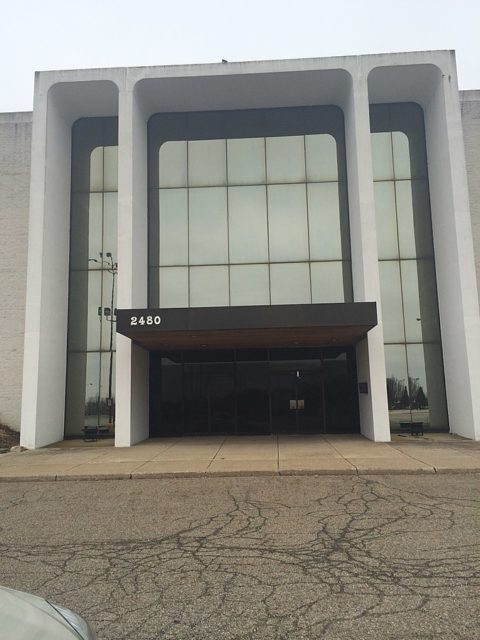 Exterior entrance to former Kaufmann's at Rolling Acres Mall, also the entrance on "Gold on the Ceiling" single release - Author: UA757 - CC BY-SA 3.0
The future turned out to be demolition after no other project was suitable or worked for all the parties. The Rolling Acres Mall was found interesting in its demise by The Black Keys, and they featured a photograph of one of the entrances on their "Gold on the Ceiling" single release in 2012.
Click here to view the article.