North Wilkesboro Speedway is a short track that hosted NASCAR until 1996. It is located on U.S. Route 421, about five miles east of the town of North Wilkesboro in North Carolina.
Opened in 1949, the track was a NASCAR original and also hosted 93 Winston Cup Series races. After its closure, the track was reopened only once in 2010 as a host of several Stock Car Series races.
Among them were the now-defunct ASA Late Moder Series, USA Racing Pro Cup Series, and PASS Super Late Models. In the spring of 2011, it was closed again and remains abandoned to this day.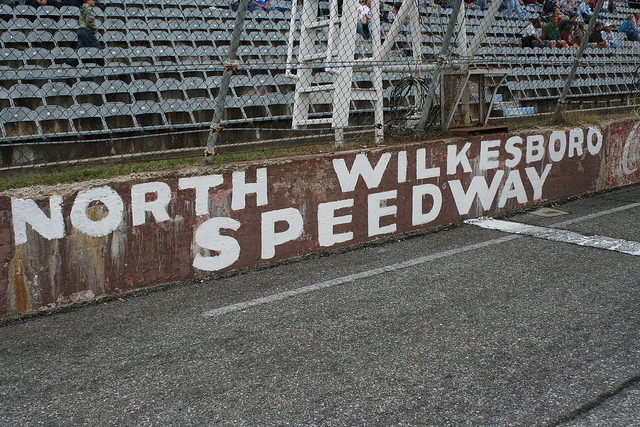 North Wilkesboro Speedway - Author: Mike Kalasnik - CC by 2.0
It all started from one man named Enoch Staley that attended a stock car race in South Carolina in 1945. Enoch was impressed by the large crowds attending the event and inspired by the new sport. He decided to use these magnificent large crowds in his favor and set his mind on building a track in his own Wilkes County. A friend named Bill France assisted him with the construction operations and helped promote the races. Along the line, he managed to get more people on his side as partners (Lawson Curry, Jack Combs and Charlie Combs).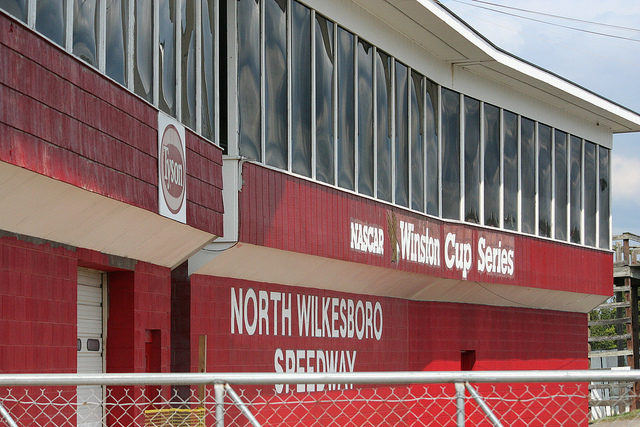 North Wilkesboro Speedway - Author: Mike Kalasnik - CC by 2.0
They purchased farmland near North Wilkesboro and began building an oval racetrack. Soon their initial investment of $1,500 was exhausted and they decided to leave the track uncompleted with only two slight differences for the time being. The only two problems were that the front stretch was left with a downhill slope and the backstretch had an uphill slope. Final construction and ironing of the slopes finished late in 1946.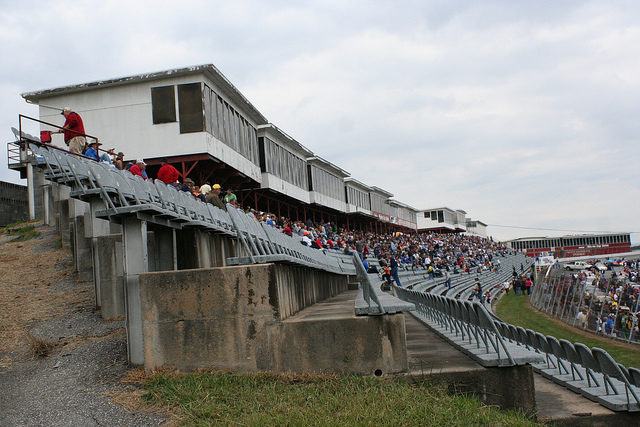 One of the last held races - Author: Mike Kalasnik - CC by 2.0
North Wilkesboro Speedway opened its gates on May 18th in 1947 firstly as a dirt track. Bill France did his job and promoted the first official better than he was paid for. They expected around 3,000 people to attend the event, but surprisingly 10,000 people showed up to witness the first ever race on North Wilkesboro Speedway. The event was called a Modified race, including heat races and a feature race.
Empty South Grandstand - Author: Mike Kalasnik - CC by 2.0
The winner was one of the famous Flock brothers. The interest and great buzz about stock cars going crazy fast was not a surprise at all. Years before NASCAR was founded, the Wilkes County and the surrounding areas were knows as the Moonshine Capital of America. It's location in the foothills of the Appalachian Mountains was very convenient for distillers and distributors of moonshine, and they all had very fast cars.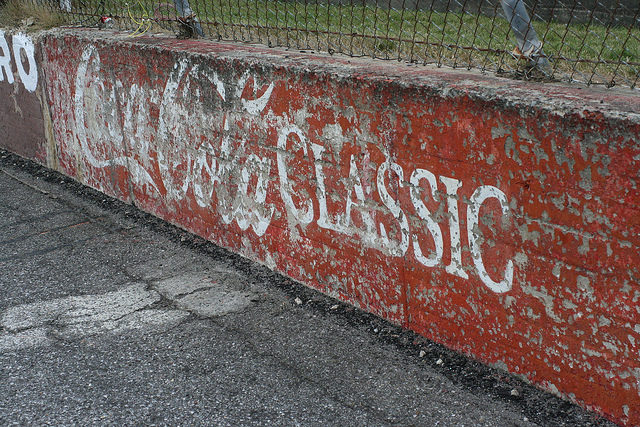 Banged up banner - Author: Mike Kalasnik - CC by 2.0
Faster than the police cars at the time at least. The local economy after the Great Depression was resurrected pretty much solely by moonshine production and distribution. In the words of North Wilkesboro native & NASCAR driver Benny Parsons:
"Trust me, there was nothing to do in the mountains of North Carolina back in the 30's, 40's, and 50's. You either worked at a hosiery mill, a furniture factory, or you made whiskey"
.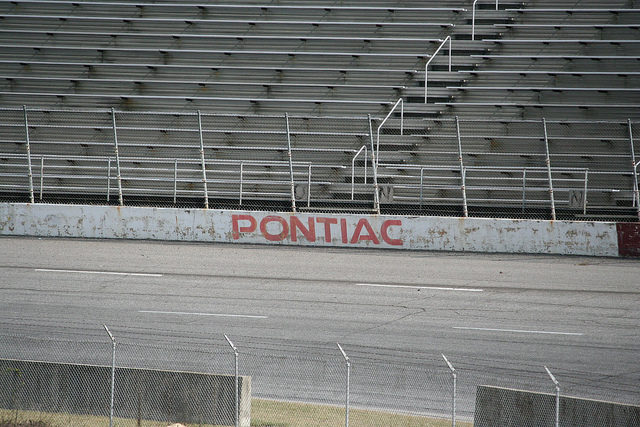 "PONTIAC" - Author: Mike Kalasnik - CC by 2.0
In 1949 on October the 16th, North Wilkesboro Speedway hosted the eighth and final race of the 1949 NASCAR Strictly Stock Division. Kenneth Wagner won the first Cup Pole at the track with a speed of 57.563 mph (92.638 kmph) on the dirt surface.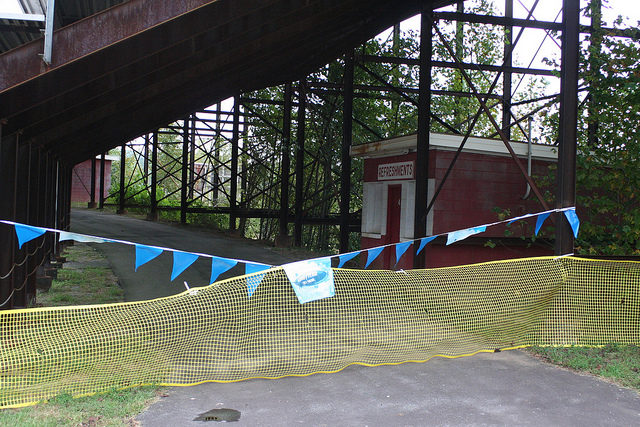 North Wilkesboro Speedway - Author: Mike Kalasnik - CC by 2.0
The records of the races state:
"Bob Flock in his Bob Christian owned 1949 Oldsmobile passed Bill Blair's fading Cadillac with 20 laps to go and won by about 100 yards over Lee Petty. At the end of the day Robert "Red" Byron walked away as the first NASCAR champion"
.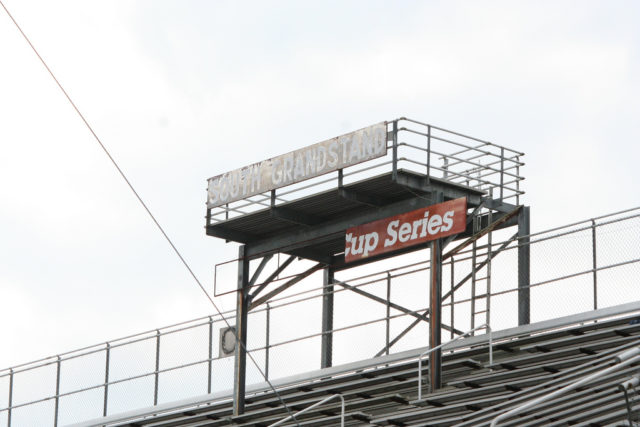 North Wilkesboro Speedway - Author: Mike Kalasnik - CC by 2.0
The North Wilkesboro Speedway model can be found in several NASCAR related video games, including NASCAR Racing, NASCAR Racing 2, NASCAR Racing 3, NASCAR Racing 4, NASCAR Racing 2003 Season and NASCAR Heat as an add-on track that can be downloaded. It was also featured in GeneRally on the Top Gear BBC Series in a special episode "East Coast Road Trip". Alongside other speedway tracks, Wilkesboro was the inspiration for the Thomasville Speedway in Pixar's animated movie Cars 3.
Click here to view the article.